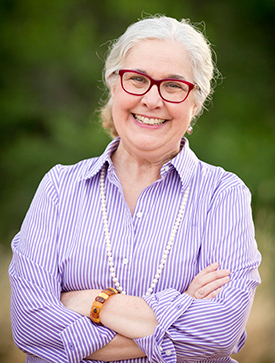 Lauren on why quilts are important…
Quiltmaking requires the creative use of materials at hand to achieve a beautiful result that will warm and protect you and those you love. Living with a quilt, on the bed or on the wall, can be a daily call to mindfulness of the simple beauty that surrounds us. The gift of a quilt is a gesture of love, to someone special or to yourself.
"Creating a T-shirt quilt is telling the story of the person who wore those shirts. My clients have had quilts made as graduation gifts, to celebrate birthdays and anniversaries, to blend families at a marriage, and as a tribute to someone has passed away. It is a privilege to be able to be part of marking the important events in their lives."
Quiltmaking is like a well-lived life.  The beauty comes from the creative use of the materials at hand, and embracing the unexpected result."
Lauren Kingsland is celebrated for her colorful quilts filled with richly varied fabrics, symmetrical motifs, and repurposed materials.  She is recognized for her masterful and peaceful kolam quilt series inspired by street drawings of South India.  She has created more than 100 commissions for clients from their collections of treasured garments.  Her goal is to break the barriers of tradition so that quilts are recognized as an art medium and as a tool for self knowledge and healing.   She lectures and teaches widely including for the Smithsonian Associates, Montgomery College, the John C. Campbell Folk School, healthcare support organizations and quilters guilds.
Lauren has a BA from Stephens College in Classical Greek and Mathematics and a MA from the Maryland University of Integrative Health in Applied Healing Arts.
Her former public studios were in the Gaithersburg MD Arts Barn from  2002 – 2012 and in the Sandy Spring MD Museum from 2012 – 2017.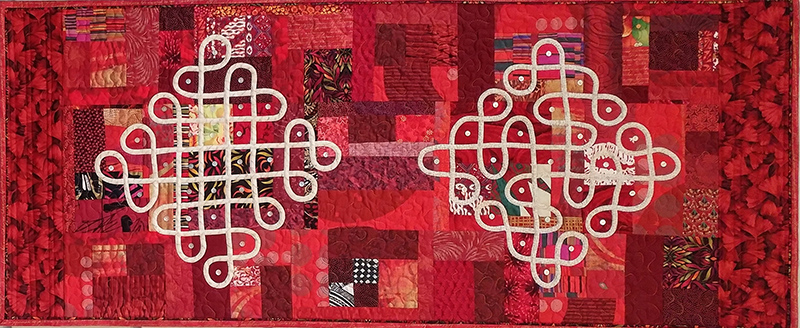 THE T-SHIRT QUILT

"The T-shirt quilt tells the story of the person who collected the shirts. Each one I make is an original, just like that person."
LOVE NOTES – THE KOLAM QUILT

This quilt is a melding of my series of improvisational pieced scrap quilts. While traveling in southern India in 2008 I was enchanted by the continuous line drawings I saw on the ground everywhere, the kolam. These womens' meditative tradition has become the focus of a continuing series of art quilts. I use Mother of Pearl buttons as the reference dots integral to the designs and an appliqued bias strip for the line itself. My friend Shanthi Chandrasekar and I have exhibited our kolam based work together. According to her Indian grandmother, the kolam represents that we have challenges in our life (the dots) and can skillfully create a beautiful design around them.
SYMMETRY AND REFLECTION

"Symmetry and reflection speak to our fundamental yearning for balance and order in ourselves and in the world. Kingsland's quilts explore the beauty of this balance through the Indian Kolam tradition and the magic of peeking into a kaleidoscope."