The Extraordinary T-shirt Quilt – A Scrapbook You Can Sleep Under
by Lauren Kingsland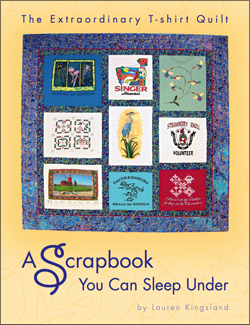 This beautiful book covers:
Work with stretchy fabrics using Lauren's new "Sew then cut" techniques
Design tips to use many sizes of blocks – no need for only same-size squares
Clear, step by step instructions
Color choice ideas
Quilting options and finishing
Troubleshooting tips
Advice for working with a professional long-arm quilter
Gallery of photos of T-shirt quilts
Making your own T-Shirt quilt is a creative way to transform laundry into legacy! Whether you are an experienced quilter or new to sewing, this book will help you create a lasting heirloom from treasured T-shirts. This is the ultimate personal gift to commemorate your family occasion.
40p, full color photographs, saddle stitched binding
ISBN 0-9787044