Quilt as Art – When I began my journey as a young artist the question was asked, "Is the quilt Art?" My career goal has been to hold my own vision of quilts as an art medium as an example to the world of what could be. This meant high quality workmanship, learning the language of Art, hanging out with artists in other media, exhibiting my work, and having something to say. Now, in 2019, the question is moot – of course the quilt can be an art medium. When color, shape, and line convey a message, that's ART.
Art in service of being well – Over the course of many years Lauren has provided hands-on holistic care art experiences in service of life balance to more than 10,000 patients, family members and medical staff in healthcare settings.
Why quilts are an art medium for healing and wellness?
* Quilts are witness to life's most personal moments – Conception, birth, sleep, illness, and death.
* Reminders of family connection and legacy. "Someone loved me and tucked me in under a quilt."
* Quilt stories as a starting place for deep conversation taps into shared experience with patients/caregivers.
* The mind and spirit are treated with color, pattern, texture, order and balance while the body is warmed.
* Therapeutic flow and mindfulness in the moment are part of the experience of making a quilt.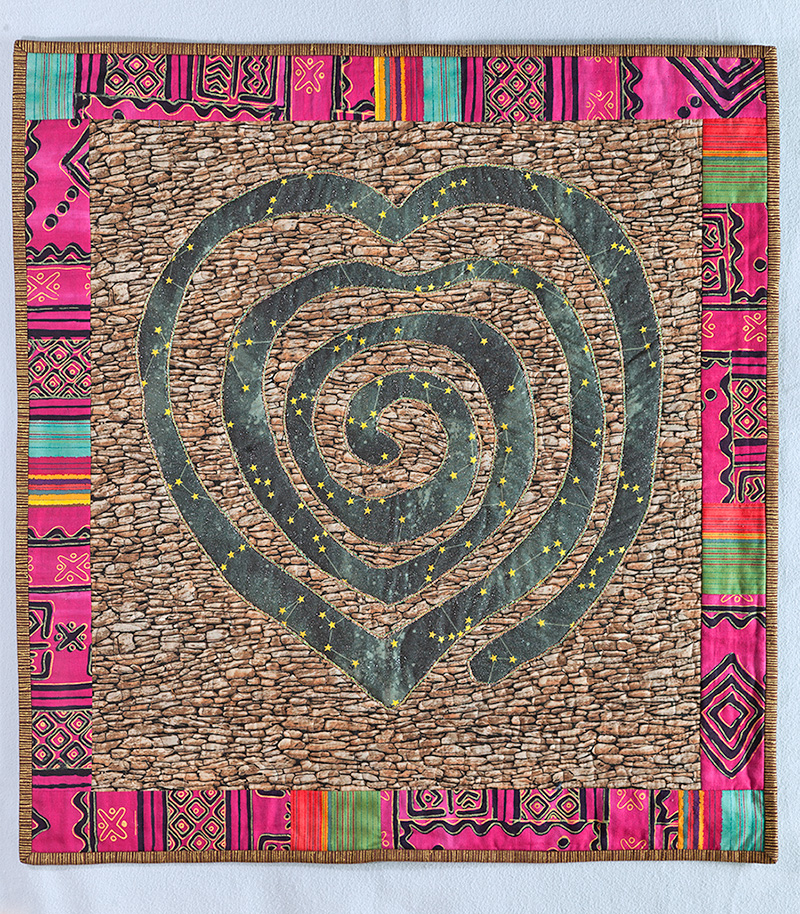 THE T-SHIRT QUILT

"The T-shirt quilt tells the story of the person who collected the shirts. Each one I make is an original, just like that person."
LOVE NOTES – THE KOLAM QUILT

This quilt is a melding of my series of improvisational pieced scrap quilts. While traveling in southern India in 2008 I was enchanted by the continuous line drawings I saw on the ground everywhere, the kolam. These womens' meditative tradition has become the focus of a continuing series of art quilts. I use Mother of Pearl buttons as the reference dots integral to the designs and an appliqued bias strip for the line itself. My friend Shanthi Chandrasekar and I have exhibited our kolam based work together. According to her Indian grandmother, the kolam represents that we have challenges in our life (the dots) and can skillfully create a beautiful design around them.
SYMMETRY AND REFLECTION

"Symmetry and reflection speak to our fundamental yearning for balance and order in ourselves and in the world. Kingsland's quilts explore the beauty of this balance through the Indian Kolam tradition and the magic of peeking into a kaleidoscope."